It's March.
It's that time of year, again, where St. Patrick is king and Irish dance gets crazy here in Utah.
What does March mean to us as Irish dancers? Performances, parades, fund raisers, extra practice, a few new blisters, etc. But for our families (and their sanity) there are also many other activities that can be a lot of fun and don't have anything to do with the St. Patrick's Day Parade in downtown Salt Lake City. Here are just a few of the non-Irish related activities in the great state of Utah.
Don't worry, we'll fill you in on all the Irish-ness in our next post.
Upcoming Events in March
March 1
Spencer Krug is a Canadian musician. He is the singer, songwriter and keyboardist for the indie rock band Moonface. While his distinctive voice and singing style have drawn equal parts praise and derision, his songwriting abilities have been much-lauded in the music press, and he has been called "arguably the most talented songwriter of this generation."
21 and older admitted to The State Room.
$20
March 1 – March 22
Book by Kevin Henkes
Lilly loves everything about school, especially her cool teacher, Mr. Slinger. But when Lilly brings her purple plastic purse and its treasures to school and can't wait until sharing time, Mr. Slinger confiscates her prized possessions. Lilly's fury leads to revenge and then to remorse and she sets out to make amends.
$14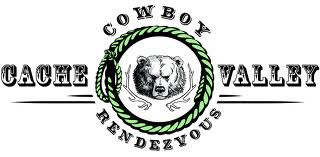 Cache Valley Cowboy Rendezvous
March 1
Hey pardners, the admission to Cache Valley Cowboy Rendezvous is FREE this year! Bring yur family and friends and join us for good vittles, tradin' and dancin' and the 3 stages of great western entertainment. Give it a try – spurs and chaps are optional!
Concert tickets
$15 – $35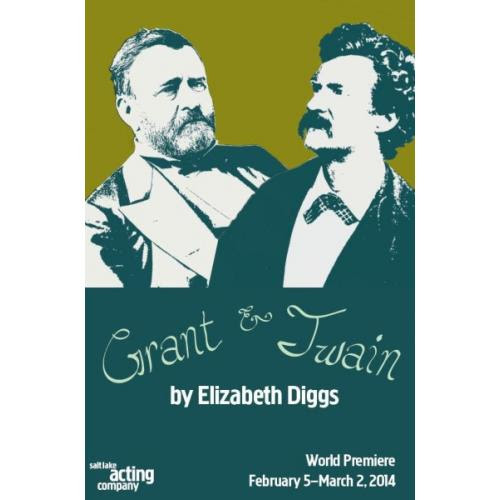 March 2
Ulysses S. Grant was the hero of the Civil War. Mark Twain was the most famous writer in America. Twain had just broken a seven-year writer's block to finish "The Adventures of Huckleberry Finn." Grant had just been swindled out of all his money in a Ponzi scheme. In 1884 the two men forged an unlikely and unbreakable friendship. GRANT & TWAIN explores these two intriguing, complex characters in a story of friendship, courage, betrayal and triumph.
$15 – $42
March 2
Bitingly relevant and sprinkled with sass, BRING IT ON: THE MUSICAL inspired by the Bring It On film, takes you on a high-flying journey through friendship, forgiveness and determination.
$30 – $52.50

Disney On Ice: Rockin' Ever After
March 5 – March 9
Get ready to rock out with some of the most magical idols of all in a musical showcase that features the hottest tunes and talent from across the kingdom in Disney On Ice presents Rockin' Ever After at EnergySolutions Arena!
$20 – $52

March 5
The world's premier classical Chinese dance company is returning to Val A. Browing Center, bringing its unique blend of invigorating dance, enchanting music and breathtaking digital backdrops to Utah for all ages.
$50 – $120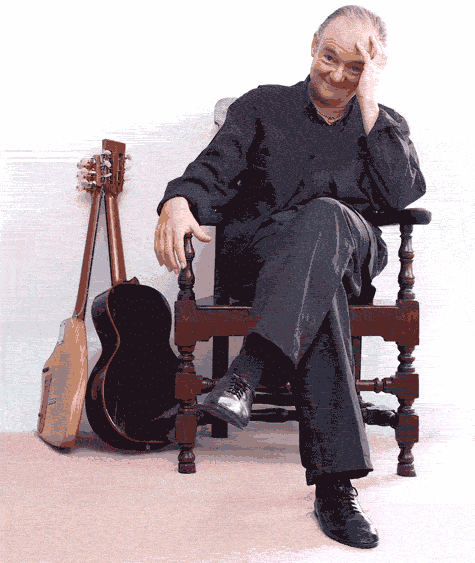 March 5
Renowned and awarded for his unique amalgamation of acoustic and electric guitar and how he blends diverse musical styles and inspirations into a distinctive sound all his own, Legg has been hailed as "one of the wizards" of the guitar (Philadelphia Enquirer), "an adventurer" (Newsday) and "a genius" (Los Angeles Reader).
March 6
The company is renowned for its distinct blend of classical ballet and African American cultural influences. The repertoire reflects the energy, direction, and vitality of American dance from Petipa to Balanchine and Byrd.
$29 – $59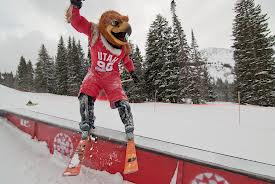 Skiing: Women's 5K/Men's 10K Classic
March 6
University of Utah Athletics host Women's 5K/Men's 10K Classic at Midway, Utah (Soldier Hollow Resort)

Salt Lake Tribune Home and Garden Festival
March 7 – March 9
Find innovative products, new ideas, practical advice and great deals in remodeling, home improvement and gardening with hundreds of experts all under one roof. From windows and flooring to cabinets and landscaping and much more. Shop, compare and save for 3 days only!
Free – $10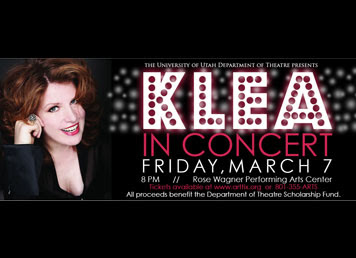 March 7
Actress, singer, and comedienne Klea Blackhurst returns to her hometown of Salt Lake City for a one-night benefit concert engagement. You can take the girl out of Utah, but you can't take the Utah out of the girl! Find out how growing up in "the Buckle on the Jello Belt" prepared Klea for life in the Big Apple. From "A Cockeyed Optimist" to "The Yodeling Muchacha".
$34 – $64
March 7
First Friday of each month. Open seating begins at 7:30, show starts at 8 p.m. The Thrillionaires perform live improvised musical comedies and plays without a script of any kind, and make up all the lyrics and dialogue on the spot. You'll be amazed at their talent, their creativity, and their off-the-wall comedy!
$8
March 8
Join HawkWatch International's Conservation Science Director, Steve Slater, for an exclusive twilight field trip up Big Cottonwood Canyon to prowl for owls! You will be snowshoeing about a mile (mild to moderately strenuous terrain) on the Donut Falls trail and stopping to broadcast and listen for owls. Hot drinks will be provided. Be sure to dress warmly, bring your snowshoes (a must), and plenty of questions.
$15 – $20
March 12
Buddy is a three-time world champion spoken word artist featured on NPR, the BBC, HBO's Def Poetry Jam, and TEDxTalks. Grab your mat, towel, and water to practice with Jen at 5:30pm to find a quiet space in your life for Buddy's "Rilled Up And Wasted On Light" performance at 7:00pm. Guaranteed to ground you in the present and connect to the people around you!
$15 – $20
U.S. National DanceSport Championships
March 12 – March 15
Brigham Young University will host the largest amateur DanceSport event in the country during the U.S. National DanceSport Championships at the Marriott Center. The DanceSport competition will feature dancers from across the country in more than 30 different divisions. National amateur titles will be awarded in Latin, standard, smooth, rhythm, cabaret and formation in all age categories.
$20 – $50
University of Utah Women's Tennis
March 14
University of Utah's Women's Tennis Team vs. UCLA. Match begins at 1:30pm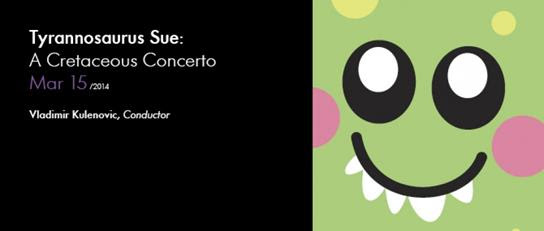 Tyrannosaurus Sue: A Cretaceous Concert
March 15
Every kid loves dinosaurs and every kid loves music. Put the two together and you get the delightful tale of a Tyrannosaurus Rex named Sue. Sit back and let yourself be transported all the way back to the Cretaceous Period by the instruments of the orchestra as they tell the amazing story of her life.
$8 – $18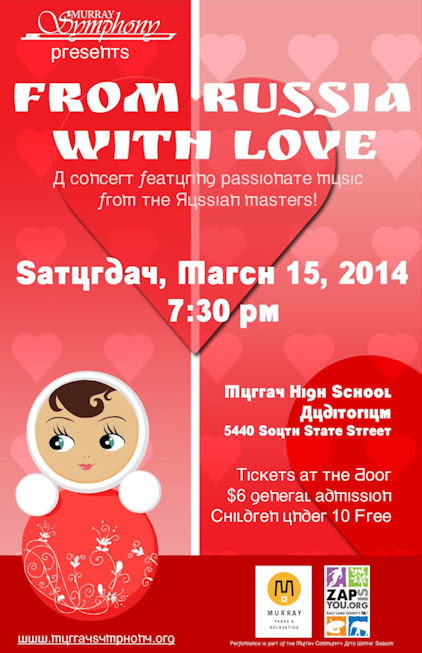 March 15
Murray Symphony is excited to announce its upcoming concert: From Russia With Love, featuring passionate music from the Russian masters. The concert will also feature Rachmaninoff's Piano Concerto no. 2 with pianist Ruan Duan.
$6

March 15 – March 23
Turandot is Puccini's "cruel princess." She is vain, icy, and seemingly incapable of love. In keeping with her impenetrable persona, she announces that she will marry the man who can solve her three riddles but gravely punish those who cannot. Heads do roll until one clever prince appears and solves her trio of challenges. He then counters with a riddle of his own and Turandot is caught uncomfortably in a web of her own making.
$5 – $10

Utah Grizzlies vs. Stockton Thunder
March 19
Stockton Thunder vs. Utah Grizzlies at Maverick Center 7:05pm
$16.55 – $43.15

March 20 – March 22
The classic fairy tale about a tiny girl born in a flower is given a Latin flair in this musical adaptation featuring songs from Mexico and Central and South America. The story follows the small but plucky heroine through many adventures, learning along the way that when you follow your heart, nothing is impossible. Performed by the talented young actors of the U's Youth Theatre, it's a performance that the whole family will enjoy!
$5 – $10

March 22
A quarter of the age of jazz, pianist Gerald Clayton stakes his claim in the world of jazz. His dynamic and award-winning sound has been praised with a huge, authorative presence and an Oscar Peterson-like style. Tradition and innovation coexist peacefully in this powerful young performer. We welcome a giant young star with his trio.
$24.50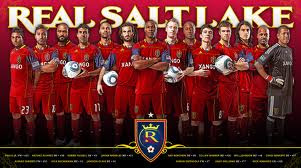 REAL Salt Lake vs. Los Angeles
March 22
REAL Salt Lake vs. Los Angeles at Rio Tinto Stadium at 2:00pm

Loveland Living Planet Aquarium announces opening
March 25
March 25 is the public grand opening, staff says they are expecting the number of visitors to be at capacity every day for the first week, they are encouraging anyone wanting tickets to act soon. A family membership is $150 a year. A day pass is $20 for adults and $15 for kids.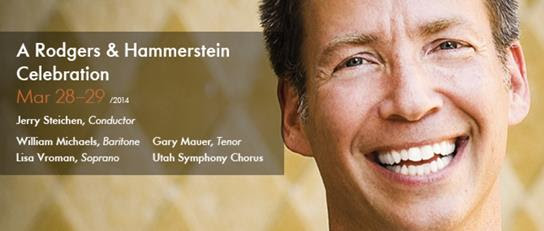 Rogers and Hammerstein Celebration
March 28
It will be an "enchanted evening" at Abravanel Hall. Don't miss Jerry and the Utah Symphony as they highlight the careers of music theatre legends Richard Rodgers and Oscar Hammerstein II. Featured on this program will be hits from The King and I, The Sound of Music and many more classic shows from the undisputed kings of Broadway.
$23 – $68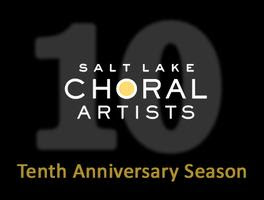 Salt Lake Choral Artists Spring Choral Festival
March 29
The choir focuses on classical, contemporary, and culturally diverse music and enjoys collaborating with other performing groups in the community. They have appeared with the University of Utah Singers and A Cappella Choir and the Salt Lake Symphony, and twice performed with Ballet West for their productions of Carmina Burana. SLCA is also dedicated to community outreach; they have worked with several local schools during their regular concert season and participated in interfaith concerts in the Salt Lake valley.
$10 – $20

March 29
With dancers defined by the Chicago Tribune as "inviting and complicated… appealing but tough" the Trey McIntyre Project brings to Park City adventurous contemporary dance. Company founder McIntyre is described by The Los Angeles Times as "a brainy ballet choreographer whose best works fuse visceral physicality with a deep and true humanism.
$20 – $69

AMSOIL Arenacross Motorcycle Racing
March 29 – March 30
AMSOIL Arenacross, featuring Ricky Carmichael's Road to Success, stops at EnergySolutions Arena. Don't miss out on this exciting, one-of-a-kind, intimate off-road motorcycle racing!
$20 – $35
March 29 – March 30
Holi Festival of Colors brings people together like no other event, live bands, mantra music, food, yoga, and colors. This event, held in Spanish Fork since 1989, has been the trendsetter for all other Color Events and Runs worldwide. Purchase of colors not included in admission.
$3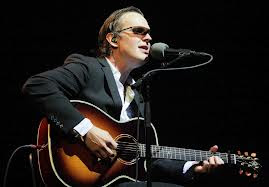 March 30
"They're calling him the future of blues, but they're wrong – Joe Bonamassa is the present; so fresh and of his time that he almost defines it." – Classic Rock Magazine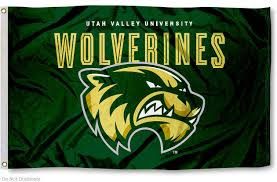 March 28
The UVU Wolverines vs. Bakersfield CA. at Utah Valley University 6:00pm
With so much to do, your March should be a fun month!
Many thanks to Sheralyn at Influence Real Estate for this awesome list! We love you!
*Updated 03March14 to include a missed link.
Enjoy Utah's March Events!